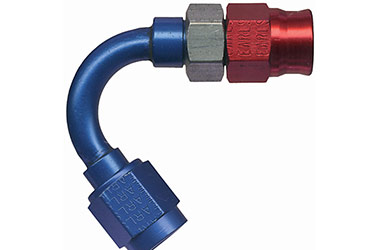 6/27/2014 - Media
Summit Racing Equipment Now Offers Earl's Performance Speed-Flex Brake Lines and Speed-Seal Hose Ends
These new components are an essential foundation of a high-performance plumbing system.
Earl's Speed-Flex Hoses are made from industry-standard PTFE hose protected by braided stainless steel. The hoses restrict the pressure expansion that a stock rubber line would have, resulting in a firmer pedal and improved feel.
Speed-Flex hoses can be used in brake, hydraulic clutch, and gauge plumbing systems. The hoses are available either with or without fittings installed. They are intended for racing applications and come in multiple lengths, diameters, and fitting options.
Reusable and reliable, Earl's Speed-Seal Hose Ends are proven to withstand the extreme conditions of a race environment. With a wall thickness 80 percent larger than a typical fitting, these hose ends are especially well protected against vibration and wear. The fittings are available in aluminum or stainless steel and come in various sizes, angles, and configurations. Speed-Seal hose ends are specifically designed for Earl's Speed-Flex smooth bore hoses.
See All Earl's Performance Speed-Flex Hoses and Speed-Seal Fittings at Summit Racing.