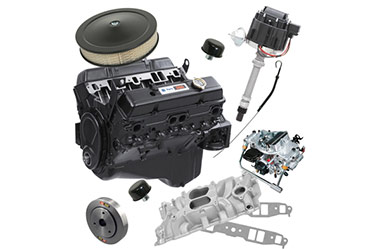 6/9/2014 - Media
Summit Racing 350 C.I.D. 195 HP Engine Combos Now Available
Looking for a crate engine for a mild street machine, street rod, or just your old beater work truck? Summit Racing has you covered with these 350 C.I.D. 195 HP Engine Combos. The combos are based on the Chevrolet Performance 350/195 HP long block. Built with all-new parts, the 8.5:1 compression engine features 4-bolt main/2-piece rear main seal block, cast iron rotating assembly, a flat tappet hydraulic cam (.383 intake/.401 inch exhaust lift, 194° intake/202° exhaust duration at .050 inch), cast iron cylinder heads with 76cc open-style chambers and 1.94 intake/1.50 inch exhaust valves. You also get painted valve covers, oil pan, and timing cover.


Summit Racing added these parts to make it a true performance engine:
• Summit Racing Street & Strip® Stage 1 dual plane intake manifold
• Summit Racing Street & Strip or 600 cfm vacuum secondary carburetor
• Summit Racing Blueprinted HEI distributor
• Summit Racing OEM-style harmonic damper
• Air cleaner assembly, valve covers and breathers, engine oil dipstick, and intake gaskets


We also have a 350 C.I.D. 195 HP Engine Combo with an Edelbrock Performer dual plane intake and 600 cfm vacuum secondary carburetor if you're into parts from the Big E. Summit Racing carries plenty of upgrade parts if you want to turn up the wick on your new engine.


SEE THE SUMMIT RACING 350 C.I.D. 195 HP ENGINE COMBOS AT SUMMIT RACING