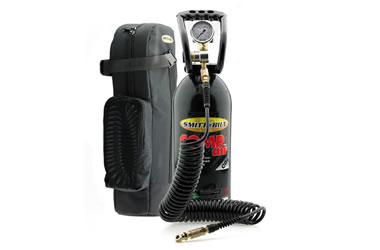 11/12/2012 - Media
Smittybilt Compact Air System Available at Summit Racing Equipment
Don't let a flat tire spoil your day. With a Compact Air System from Smittybilt, you can easily inflate tires in just a couple of minutes.


What It Is: Smittybilt Compact Air System


Why It's Cool: It's not only great for refilling tires, the Smittybilt Compact Air System has enough power to run small air tools, too! This portable system includes a refillable 10 gallon CO2 storage bottle and 250 psi integrated regulator, plus an air hose, pressure gauge, air chuck, and carry bag.


Part Number: SMT-2747


Where to Get One: Order online at SummitRacing.com or call Summit Racing at 1-800-230-3030


Other Stuff Worth Knowing: If CO2 air systems aren't your thing, Smittybilt also offers compressed air systems to handle all of your on-board air duties. The air compressors are fully portable as delivered, but can be permanently mounted and hard-wired to the vehicle. These powerful compressors have an oil-less direct drive motor, a screw-on brass inflator top, a quick-release coil hose, anti-vibration feet, an auto-thermal cutoff switch to protect the motor against damage, a cleanable air filter, and a storage bag.