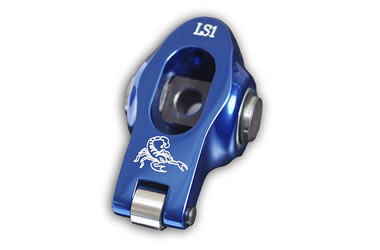 6/14/2013 - Media
Scorpion LS Race Series Rocker Arms Now Available at Summit Racing Equipment
Full body roller rockers that are true bolt-ons for factory LS cylinder heads.


What They Are: Scorpion LS Race Series Rocker Arms


Why They're Cool: Extra lift that fits under stock valve covers. Made in the USA, the LS Race Series rocker arms are a direct bolt-on for factory LS cylinder heads—they even use the OE bolts and torque specifications. CNC machined from billet aluminum, the full body rockers can handle cams up to .950 inch lift and clear valve springs up to 1.625 inches in diameter. They'll even fit under factory valve covers.


The LS Race Series rockers have a micropolished surface finish for maximum durability and come with solid steel pedestals for stable operation. They're covered by Scorpion's limited lifetime warranty.


Applications
• 1997-2010 LS except LS3, 1.7 and 1.8 ratio
• 2008-13 LS3, 1.7 and 1.8 ratio


Where to Get Them: Order online at SummitRacing.com or call Summit Racing at 1-800-230-3030


Other Stuff Worth Knowing: Summit Racing also carries Scorpion chromoly pushrods to complete your valvetrain upgrade. Available in 3/8 and 5/16 inch diameters and numerous lengths, the pushrods are nitride surface-hardened and have 240 degree balls for excellent rocker arm cup clearance. The press-fit tips are made from case-hardened wear-resistant 8620 steel bar stock for excellent wear resistance.