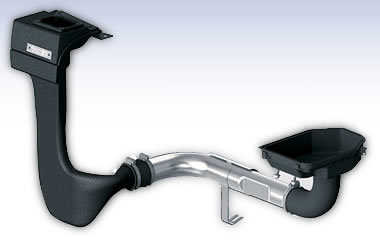 5/24/2013 - Media
Rugged Ridge Snorkels Now Available at Summit Racing Equipment
Feed your engine air, not water.
What They Are: Rugged Ridge Snorkels
Why They're Cool: The Rugged Ridge Low-Mount Snorkel relocates your Jeep's air intake port to just below the windshield, helping to eliminate the danger of hydro-lock while water fording. It includes mandrel-bent aluminum and plastic tubing, high-temperature connectors, and all other necessary components to create a watertight air passage. The system uses manual drain valves that channel excess water away from your engine.
Adding the High-Mount Snorkel brings the intake to the top of your Jeep's windshield for an additional 21 inches of clearance. In other words, you'll be under water before the intake is.
Application: 2007-11 Jeep Wrangler 3.8L. Sheet metal modification will be required.
Rugged Ridge XHD Low-Mount Snorkel Systems
Rugged Ridge XHD High-Mount Snorkels
Where to Get One: Order online at SummitRacing.com or call Summit Racing at 1-800-230-3030.
Other Stuff Worth Knowing: If your Jeep likes getting wet, Rugged Ridge has All-Terrain Floor Liners that are designed to trap water, mud, snow, or anything else that sneaks in. The thermoplastic liners are molded to fit the precise contours of the floor and have specially designed chevrons to trap water. Clean up is easy—just pull them out, hose them off, and get back to the trail.