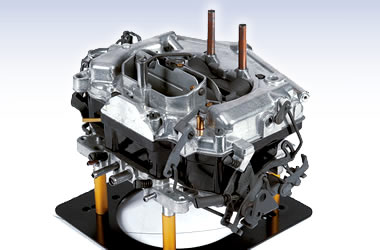 2/28/2013 - Media
Remanufactured Thermoquad Carburetors Now Available at Summit Racing Equipment
Summit Racing Remanufactured Thermoquad Carburetors offer the quality and performance you want at a price you can afford.


Why They're Cool: Rebuilding a Carter Thermoquad carburetor can be tricky if you don't have the expertise. Summit Racing's properly rebuilt 800 cfm carburetors are fully disassembled and cleaned; all worn or non-functioning components are replaced. The carbs are available in three different configurations to fit popular Chrysler V8 engines.


Part Numbers
SUM-210232 Recommended for Chrysler 318-340 engines
SUM-210234 Recommended for Chrysler 360-400 engines
SUM-210236 Recommended for Chrysler 413-440 engines


Where to Get One: Order online at SummitRacing.com or call Summit Racing at 1-800-230-3030


Other Stuff Worth Knowing: Purchasing a remanufactured carb can be iffy. UREMCO is a fuel system rebuilder with the expertise and stringent quality standards to ensure every carburetor it rebuilds operates up to original form, fit, and functional standards. Each carb is individually inspected and rigorously tested on flow bench engine simulators by seasoned and knowledgeable carb rebuilders. UREMCO offers single, two barrel, and four barrel reman carbs for 1964-87 Dodge, Chrysler, and Plymouth vehicles.