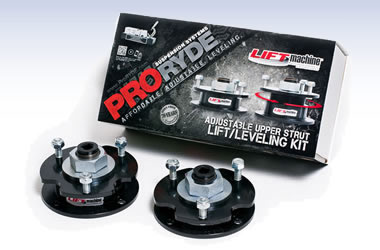 4/29/2013 - Media
ProRYDE LIFTMachine™ Adjustable Leveling Kits Now Available at Summit Racing Equipment
The easy way to get your truck or SUV perfectly level.


What They Are: ProRYDE LIFTMachine Adjustable Leveling Kits


Why They're Cool: Most leveling kits are not adjustable—the height you see is the height you get, and your truck may or may not actually be leveled perfectly.


The ProRYDE LIFTMachine is the only adjustable leveling kit available. It features an adjustable helix drive system that makes it a snap to set the exact height required to level your truck or SUV. The LIFTMachine is height-adjustable from 1.5 to 3 inches (depending on model) using standard 1/2 inch drive sockets and wrenches. A large diameter jam nut securely locks in adjustments.


The LIFTMachine installs on the top of the strut assembly so there is no time-consuming strut disassembly. That also means there is no coil spring "preload" that can mess up ride comfort. The kit features burly 1/4 inch thick steel top and base plates, plus built-in socket reliefs for easy attachment to the OEM strut studs.


Applications
• 2007-13 Chevy/GMC Silverado/Sierra 1500, Avalanche, Tahoe, Suburban 1500
• 2003-13 Ford F-150 and Expedition
• 1994-2013 Dodge/Ram pickup
• 2007-13 Toyota Tundra


Where to Get One: Order online at SummitRacing.com or call Summit Racing at 1-800-230-3030


Other Stuff Worth Knowing: Summit Racing also carries ProRYDE's Duck Head Torsion Key Leveling Systems for 1988-2013 GM full size trucks. They feature a completely redesigned adjustment system and forged torsion key design that allows the highest range of on-the-vehicle ride height adjustment.