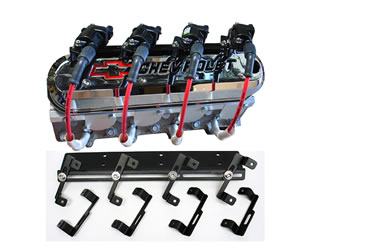 11/12/2012 - Media
Proform Coil Brackets for GM LS Engines Now Available at Summit Racing Equipment
Get those ugly LS coils off of your beautiful Proform LS valve Covers.


What They Are: Proform LS Coil Brackets


Why They're Cool: The solution for coil relocation. If you happen to have a pair of Proform's gorgeous slant-edge valve covers on your LS engine (and you do, don't you?), now you can move the ignition coils out of the way with these Proform Coil Brackets. They have a unique rail mounting system that attaches to the threaded holes in the valve covers; the individual coils attach to the rail so they can be mounted in multiple positions, allowing you to clearly see the valve covers. All the necessary hardware is included with the LS Integrated Ignition Coil Bracket system.


Summit Racing also has Proform's Coil Extension Harnesses to help you finish your coil relocation job. They feature factory-style Delphi connectors and are built and tested to handle high engine compartment temperatures.


Part Numbers
PRO-69520 Coil Brackets for LS1/LS6
PRO-69521 Coil Brackets for LS3/LS7
PRO-69525 Coil Extension Harness, 18 inch
PRO-69526 Coil Extension Harness, 46 inch


Where to Get Them: Order online at SummitRacing.com or call Summit Racing at 1-800-230-3030


Other Stuff Worth Knowing: Of course, Summit Racing also stocks Proform's LS valve covers if you need to acquire a pair. The cast aluminum covers are taller than stock to accommodate high-lift roller rockers, and are available in chrome, polished, Chevy orange powercoated, and black or gray crinkle finishes.