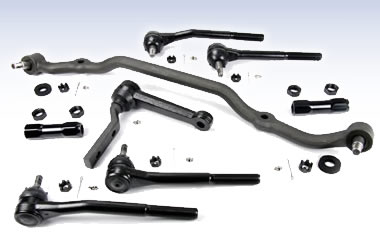 3/14/2013 - Media
Proforged Steering Rebuild Kits Now Available at Summit Racing Equipment
A straightforward solution for sloppy steering syndrome.
What They Are: Proforged Steering Rebuild Kits
Why They're Cool: Greatly improved steering for vintage muscle. These kits replace worn steering parts and components for better steering response and handling.
CNC-machined from SAE1045 steel and billet aluminum, each part is noticeably better than stock. Installing a kit improves steering and handling, and the vehicle can be better aligned to prevent premature tire wear.
Depending on the application, the kits include a center link, tie rod ends and sleeves, pitman arm, rubber boots, and idler arm.
Application: Available for popular '60s- and '70s-era musclecars like the Roadrunner, GTX, Camaro, Firebird, Charger, Chevelle, and GTO.
Where to Get Them: Order online at SummitRacing.com or call Summit Racing at 1-800-230-3030.
Other Stuff Worth Knowing: Proforged makes Fast Ratio Pitman and Idler Arm Kits for A-, B-, and E-body Mopars. These bolt-in steering components provide the lightning-quick steering ratio of the legendary AAR 'Cudas and T/A Challengers. Each kit is made with heat-treated steel for excellent durability and electrocoated to prevent corrosion.