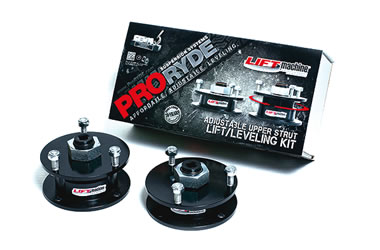 2/20/2014 - Media
PowerNation Hot Part: ProRYDE LIFTMachine Adjustable Leveling Kits
An easily adjustable lift, for real.
Why It's Cool: Back in the day, an "adjustable" leveling kit meant you had to practically disassemble your suspension system to make any of those so-called adjustments. Thankfully the folks at ProRYDE developed actually adjustable LIFTMachine Adjustable Leveling Kits. The LIFTMachine is essentially a spacer that sits on top of the strut assembly. Which means after it's installed, you can make all of your adjustments on the vehicle with a 1/2 drive socket wrench—no strut removal or advanced engineering degree required. PowerNation's Truck Tech guys like the LiftMachine kit so much, they had it on their "Sheet Metal Mods" episode.
The spacer plates are made from 1/4 inch thick steel and are held together with super-durable components. Installing a kit is easy too, because it's designed to bolt-up directly to the OE studs. The kits give you from 1½ to 3 inches of lift, available at the turn of a wrench.
ProRYDE LIFTMachine Adjustable Leveling Kits were featured on Episode Seven of PowerNation's Truck Tech. Watch the full episode here:
http://www.powernationtv.com/episode/TT2014-07/sheet-metal-mods
Product Link:
http://www.summitracing.com/search/product-line/proryde-liftmachine-adjustable-leveling-kits
About PowerNation Hot Parts at Summit Racing
PowerNation and Summit Racing have teamed up to showcase the latest parts and accessories for high performance, musclecars, trucks, and off-roading. You can learn all about these parts on episodes of PowerNation's Engine Power, Detroit Muscle, Truck Tech, and Xtreme Off-Road TV shows, then get the ones you want anytime at SummitRacing.com!