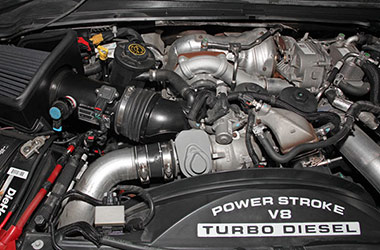 4/29/2014 - Media
PowerNation Hot Part: K&N Blackhawk Air Intake Kit for 2008-10 Ford 6.4L Powerstroke
Deep breathing for Powerstroke Diesels.
Why It's Cool: An air intake that is built to improve airflow without compromising filtration capability. Designed specifically for Ford trucks with the 6.4L Powerstroke, this kit installs neatly under the hood and provides a serious bit of engine dress-up.
K&N's Blackhawk Air Intake Kit uses lightweight aluminum tubing made to increase airflow. This improves fuel combustion, ultimately resulting in better performance. The system has a Dryflow synthetic washable air filter that decreases restriction, while retaining excellent filtration qualities. Each intake also comes with K&N's legendary Million-Mile Limited Warranty.
This intake was cool enough for the guys at PowerNation's Truck Tech to feature on their "Sheet Metal Mods" episode.
K&N's Blackhawk Intake Kit for 2008-10 Ford 6.4L Powerstroke on Episode Seven of PowerNation's Truck Tech. Watch the full episode here:
http://www.powernationtv.com/episode/TT2014-07/sheet-metal-mods
Product Link:
http://www.summitracing.com/oh/parts/knn-71-2576/overview/