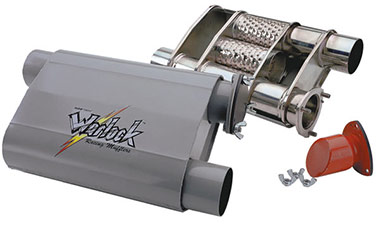 8/8/2014 - Media
PowerNation Hot Part: Flowtech Warlock Bypass Muffler
Three wing-nuts are all that separate your daily-driver from a straight-piped track beast.
Why They're Cool: Perfect for weekend racers, Flowtech's Warlock Bypass mufflers give you two exhaust systems in one. For commuting around town, exhaust gasses exit through the Warlock's three louvered pass tubes, delivering a nice, deep aggressive tone. When you get to the track, remove the Warlock's steel restrictor plate and the muffler becomes a straight pass-though pipe. That means the exhaust is essentially bypassed and you get serious power gains—along with a window-rattling, straight-pipe snarl.
The mufflers are available to fit exhaust systems with 2.25, 2.5, and 3 inch O.D. exhaust tubing.
A Flowtech Warlock Bypass Muffler was featured on Episode 16 of PowerNation's Detroit Muscle. Watch the full episode here:
http://www.powernationtv.com/episode/DM2014-16/go-with-the-flow-performance-pump-tech
Product Link:
http://www.summitracing.com/oh/search/brand/flowtech/product-line/flowtech-warlock-bypass-series-mufflers?autoview=SKU