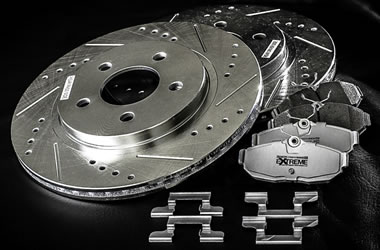 7/24/2013 - Media
Power Stop 1-Click Street Warrior Z26 Brake Kits Now Available at Summit Racing Equipment
Pad and rotor combos that ensure your Mustang stops as well as it goes.
What They Are: Power Stop 1-Click Street Warrior Z26 Brake Kits
Why They're Cool: Perfectly matched pads and rotors without the guesswork. These combos offer up to 20 percent more stopping power over stock brakes by using Power Stop's high performance Z26 brake pads. The pads are made with a carbon fiber/ceramic hybrid compound for consistent power without excess brake dust.
The cross-drilled and slotted brake rotors are zinc chromate plated for rust resistance.
Applications: Available in a variety of rotor sizes for 2005-09 Ford Mustangs.
Where to Get One: Order online at SummitRacing.com or call Summit Racing at 1-800-230-3030.
Other Stuff Worth Knowing: Cooler brakes perform more consistently with less brake fade. To keep brake temperatures down, Kenny Brown offers Performance Brake Ducts for 1994-2014 Mustangs. These easy-to-install ducts fit around the brake rotor to improve air movement over the rotor surface.