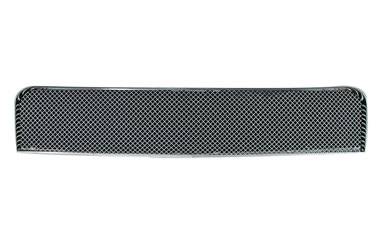 7/24/2013 - Media
Paramount Restyling Wire Mesh Grilles Now Available at Summit Racing Equipment
Help your Mustang stand out in a crowd.
Paramount Restyling Wire Mesh Grilles
Made from 304-grade stainless steel, 2mm Evolution Wire Mesh Grilles are designed to withstand the barrage of bugs, rocks, salt, and water of daily road use. They install easily with no drilling or cutting. The grilles are trimmed with an aggressive Evolution border featuring rivet accents.
They're available in a chrome or black powdercoat finish and fit 2005-09 Ford Mustangs.
Paramount also offers more traditional Wire Mesh Grilles without the Evolution trim. These grilles are made from stainless steel and finished in triple-nickel chrome to provide a stunning Mustang makeover.
The grilles come in 2mm to 4mm-sized mesh and fit 2005-09 Ford Mustangs.
If billet bars are more your style, then Paramount Restyling's 4mm Billet Grille Inserts are an ideal ponycar facelift. They're machined from billet aluminum and come in polished or black finishes. There are styles to fit both the main grille and the bumper grille.
Available for 2005-13 Ford Mustang.
Where to Get One: Order online at SummitRacing.com or call Summit Racing at 1-800-230-3030.