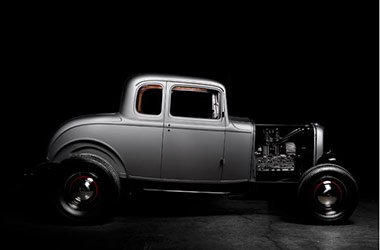 7/17/2014 - Media
New at Summit Racing: United Pacific '32 Ford 5-Window Coupe Steel Body and Components
Now you can build a '32 Ford with a genuine steel body shell from Summit Racing. The United Pacific 5-window coupe body isn't cheap, but you get one of the nicest '32 bodies available. Ask Edelbrock how nice—its 75th Anniversary '32 was built with the very first United Pacific body ever made.


Officially licensed by Ford Motor Company, the body panels are stamped on hand-built permanent steel dies to crisply duplicate every detail of Henry's original. The steel used is of equal or greater thickness than the original, and is coated in EDP (Electro Deposit Primer) inside and out to protect the shell from rust. The body has a stock height roof and comes assembled with the hardwood inner structure, doors with latches, and a trunk-style hinged deck lid.


You can get your body with an original style fabric roof and cowl vent, original roof and filled cowl, solid roof with cowl vent, or solid roof and cowl. The firewall and dash are sold separately—Summit Racing has them too.


In fact, Summit Racing has most of the parts needed to finish a United Pacific body or rehab an original Ford body including:
• OEM-style firewalls and floors
• Quarter panels, deck lids, and roof assemblies
• Cowl side panels, cowl assemblies, and cowl vent panels
• Door shells, hinges, and latch assemblies
• Windshield frame, window garnish moldings, and window regulators
• Sheet metal structural components
• OEM and hot rod style dash panels
• Interior wood components and assemblies


And when it comes to accessories, Summit Racing has you covered with United Pacific '32 Ford taillights, spreader bars, Dietz, Kingbee, and Guide style headlight assemblies, mirrors, door and window cranks, pedal pads, and much more.


SEE THE UNITED PACIFIC 1932 FORD BODY SHELLS AND COMPONENTS AT SUMMIT RACING

SEE ALL UNITED PACIFIC PRODUCTS AT SUMMIT RACING