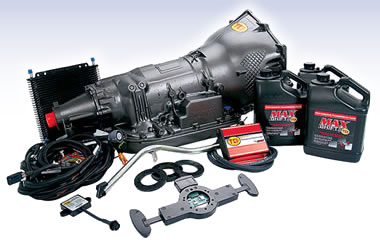 1/16/2014 - Media
New at Summit Racing: TCI 6X Six-Speed Automatic Transmission Packages
Six-speed automatics that can handle up to 850 horsepower.


Why They're Cool: The OEMs have had six-speed automatic transmissions for years, but TCI's 6X 4L80E Automatic Transmission Package is the first aftermarket six-speed auto that can handle big horsepower—up to 850 horsepower, in fact.


Based on a GM 4L80E, the 6X gives you six forward gears (2.97, 2.31, 1.57, 1.18, 1.00, and 0.75 overdrive) for quicker acceleration and increased fuel economy at cruising speeds. The transmission comes with TCI's EZ-TCU transmission controller to give you control over shift points, plus your choice of an Outlaw two-button shifter or a paddle shifter for full-manual shifting. Unlike automatics with an add-on overdrive unit, you can stuff a 6X anywhere a standard 4L80E transmission will fit.


TCI tests each transmission on a hydraulic tester valve body dyno and computer-controlled transmission dyno to ensure proper line pressures and transmission performance.


The TCI 6X 4L80E Automatic Transmission Packages include the transmission and bellhousing, EZ-TCU, Outlaws shifter, a paddle shifter, wiring harness, dipstick, and transmission cooler. TCI even includes three gallons of Max-Shifter transmission fluid. The 6X package is also available without a shifter.


6X TRANSMISSIONS FOR CHEVY V8 AND GM LS

6X TRANSMISSIONS FOR SMALL/BIG BLOCK FORD, FORD 4.6L, SMALL/BIG BLOCK CHRYSLER AND 5.7/6.1L HEMI