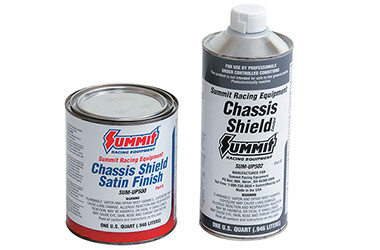 2/27/2014 - Media
New at Summit Racing: Summit Racing Chassis Shield Paint Kits
Protect and prettify frames, suspensions, engine compartments, and underbody surfaces.


Why They're Cool: Summit Racing's Chassis Shield Paint Kits feature a two-part high-grade epoxy resin. This stuff sticks to bare metal with no primer required, and provides superior protection against peeling, cracking, and scratching. It's so tough, road salt and gasoline can't hurt it.


Summit Racing Chassis Shield also has silicone additives to help prevent damage from impacts and abrasions. A powerful combination of rust inhibitors neutralize rust and help prevent future corrosion. Plus, it leaves a nice black finish in your choice of satin or semi-gloss.


The Summit Racing Chassis Shield Kits include one quart each of resin and catalyst, which mixes in a mix 1:1 ratio. You can apply it with a brush or spray gun, and one kit covers approximately 80 square feet.


CHECK OUT SUMMIT RACING'S CHASSIS SHIELD KITS