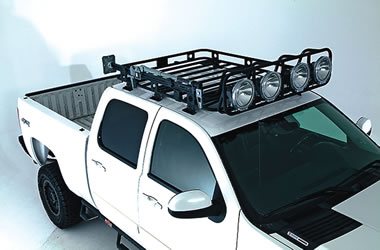 2/13/2014 - Media
New at Summit Racing: Smittybilt Defender Roof Racks
The perfect way to outfit your truck or SUV to carry more gear.
Why They're Cool: Loading up a truck or SUV for weekend excursions into the bush used to mean you're heading out with a sleeping bag on your lap. Smittybilt's Defender Roof Racks add much-needed storage space for camping equipment, toolboxes, or anything else you can't fit inside your rig.
Made from 16-gauge, one inch round steel tubing, these racks are made to handle a lot of gear. The bolt-together racks have a black textured powdercoat finish to resist the elements and include plenty of places to wrap bungee straps or ratcheting tie-downs.
Several one-, two-, and three-piece racks are available for many 1969-2013 trucks, vans, and SUVs. Multiple mounting options create a secure fit on the vehicle's roof. Depending on the application, adapters may be required, sold separately.
Product Link: http://www.summitracing.com/oh/search/part-type/roof-racks?SortBy=BestKeywordMatch&SortOrder=Ascending&keyword=SMT%20Defender