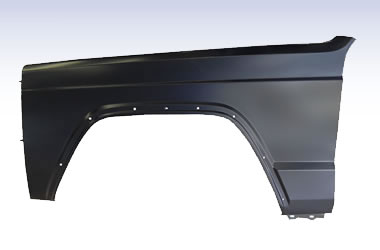 9/30/2013 - Media
New at Summit Racing: Sherman Parts Repair Panels for Jeep Cherokee
Repair panels that help you avoid hours of junkyard scavenging.
What They Are: Sherman Parts Repair Panels for 1984-2001 Jeep Cherokee XJ
Rusted floor panels are common in Jeep Cherokees because the carpeted interior traps moisture. Replacing them used to mean a day in the junkyard with a reciprocating saw. Sherman Parts comes to the rescue with driver and passenger side Floor Pan Sections. These full-length steel floor pans include the factory stamping marks and are exact replacements for your rusted ones.
If you've taken your XJ off-road or live in the Snowbelt, your rocker panels have seen better days. Available for both driver and passenger side, Sherman Rocker Panels have a slip-on design for easy installation. The panels are designed to fit four-door Jeep Cherokee models and are direct OE-style replacements.
Good luck finding rust- and dent-free fenders in a boneyard. Sherman Fenders are a much better replacement option. Each steel fender offers an OE fit and is made from EDP-coated steel for excellent rust resistance. They're available for both driver and passenger side.
Where to Get Them: Order online at SummitRacing.com or call Summit Racing at 1-800-230-3030.