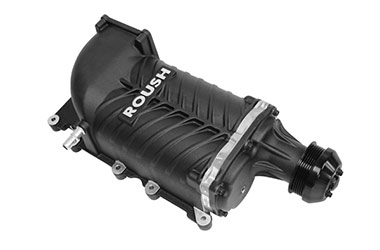 4/8/2014 - Media
New at Summit Racing: Roush Supercharger Kits for 2011-13 Ford F-150
Up to a 210 horsepower increase from a bolt-on kit.
Why They're Cool: Big power improvements from a company synonymous with Ford performance. Available in Phase 1 or Phase 2 setups, Roush Supercharger Kits are made to put a little more giddayup in your Ford F-150 without sacrificing its reliability.
The Roush Phase 1 Kit delivers a 155 horsepower gain over the stock configuration, while the Phase 2 Kit boasts a 210 horsepower improvement. These kits are available for 2011-13 Ford F-150 with 5.0L V8.
At the heart of each kit is a Roush R2300 2.3L TVS supercharger. The twin vortex rotating assembly offers more power and better fuel economy. The compact supercharger design also contributes to lower noise and vibration, along with improved throttle response.
The kits come with the supercharger and fuel charging assembly, fuel rail, cold air induction system, throttle body, spark plugs, intercooler system, hoses, and all required hardware. You also get a voucher card to send your ECU to Roush headquarters for a reflash/calibration.
Product Link:
http://www.summitracing.com/oh/search/category/truck-suv/new-product/yes/brand/roush-performance?PageSize=100&SortBy=Default&SortOrder=Ascending&keyword=supercharger