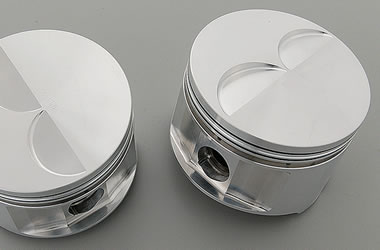 1/30/2014 - Media
New at Summit Racing: Ross Racing Forged Pistons
Build a race-winning reciprocating assembly with pistons from one of the biggest names in racing.


Why They're Cool: Ross Racing pistons are forged from 2618 billet aluminum bar stock that is heat treated and aged to T61 specifications. This alloy contains less than one percent silicon, allowing the piston to keep its shape under extreme pressure and high RPMs with less possibility of cracking. Pistons that contain larger amounts of silicon are more brittle and more susceptible to cracking. In fact, once a crack starts in a high-silicon piston, it won't stop until the piston breaks—with catastrophic results. In the rare instance a Ross 2618-T61 forged piston develops a crack, the crack will stop when it reaches a low-stress area. That means the piston will not shatter or fly apart—and that could save your engine from massive damage.


Other features include:
• Fully CNC-machined skirts to deal with high heat and side loadings
• Valve pockets engineered for oversized valves and modern high-lift cams
• Radiused domes (most applications)
• Balanced to +/- 2.5 grams
• Force-feed piston pin oilers
• Double Spirolox pin retainers
• Aircraft-quality pins


Summit Racing has over 300 types of Ross Racing Forged Pistons for these engines:
• Small and big block Chevy
• GM LS series
• Small block Ford, 429/460 Ford, Ford FE, and Ford 351Cleveland
• Small and big block Mopar


Need a ring set? Summit Racing carries matching Ross Racing piston ring sets. These sets include a special high-density moly surface top ring that seats quickly and holds its seal. The second ring is a reverse-twist, taper-face cast iron design, and the oil ring is a standard-tension, 3-piece type.


SEE ALL ROSS RACING FORGED PISTONS

SEE ALL ROSS RACING PISTON RING SETS