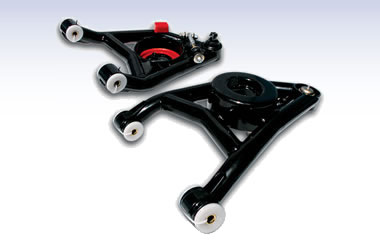 9/23/2013 - Media
New at Summit Racing: Right Stuff Detailing Tubular Front Control Arms for GM and Mopar
Better handling and less weight from the people who know musclecars.


Why They're Cool: Right Stuff Detailing might be better known for its disc brake conversions and pre-bent hard line kits for classic musclecars, but the company makes some top-notch suspension parts too. Take these Tubular Front Control Arms. The fully welded and gusseted control arms are lighter than the stamped steel OEM arms, and will drop the front of your car approximately two inches. What's more, the upper arms provide four degrees of positive caster. That improves straight-line tracking and stability during high-speed cornering and braking.


The upper control arms include Delrin bushings, ball joints and cross-shafts. The lower control arms come with bushings and ball joints.


Applications
• 1967-69 Camaro/Firebird, 1969-74 Nova
• 1964-72 GM A-body
• 1969-72 Monte Carlo and Grand Prix
• 1963-76 Dodge Dart/Demon, Plymouth Valiant/Duster, upper only


Product Link: http://www.summitracing.com/search/product-line/right-stuff-detailing-control-arms?SortBy=BestKeywordMatch&SortOrder=Ascending&autoview=SKU&keyword=Right%20Stuff%20Control%20Arms