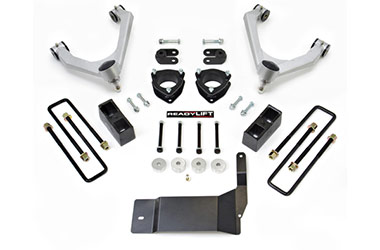 7/18/2014 - Media
New at Summit Racing: ReadyLift SST Suspension Kits for 2014 Chevy/GMC Truck
The easy way to get the wheel and tire clearance on your new Chevy Silverado or GMC Sierra 1500 4WD truck. The ReadyLift SST suspension kits give you the lift you want without messing up the factory ride and handling.


The General made a lot of changes to its full size pickups for 2014, including a new front differential mounting system, electric power steering, and even aluminum front control arms on some models. ReadyLift got one of the very first 2014s so its engineers could develop a proper lift kit. The new SST Suspension Kit will lift your truck enough to clear 33 inch x 11.50 tires when mounted on aftermarket wheels with 5.25 inches of backspacing.


The kit includes the following components:
• Fabricated/boxed steel upper control arms with one inch diameter, PFT-lined Uniball pivot bearings with machined aluminum seal caps
• Differential drop mounting system with machined billet circular spacers allows clears rear mounted electric steering rack
• Greaseable polyurethane upper control arm inner bushings with washer-backed spacer sleeves to prolong bushing life
• Four inch front strut extensions
• Three inch cast iron rear lift blocks with U-bolts
• Rear shock extension brackets
• Steel front differential skid plate
• All necessary mounting hardware


Here's another big plus—a ReadyLift SST Suspension kit is a bolt-on deal with no welding or fabricating required. That will save you at least an hour of labor compared to similar kits.


Part Numbers
RLS-69-3444* Kit for 1500 Series 4WD pickup except Z71 Off-Road package, 4" front/1.75 inch rear lift
RLS-69-3446** Kit for 1500 Series 4WD pickup except Z71 Off-Road package, 4 inch front/1.75 inch rear lift
RLS-69-3445* Kit for 1500 Series 4WD pickup with Z71 Off-Road package, 2.25 inch front/1.75 inch rear lift
* For trucks with aluminum front upper control arms
** For trucks with steel front upper control arms