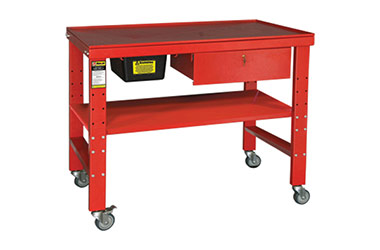 5/29/2014 - Media
New at Summit Racing: Ranger RWB-1TD Heavy-Duty Teardown Work Bench
A work bench, teardown table, and storage shelf takes up a lot of space in a garage or workshop. Wouldn't it be neat-o if you could combine all of them into one sturdy unit? Then you want Ranger's Heavy-Duty Teardown Workbench.


It's easy to get your project rolling when your work space is equipped with a Ranger Heavy-Duty Teardown Work Bench. Features include:
• 500 pound working capacity
• Over nine square feet of tabletop space
• Removable polyethylene fluid catch can
• Lockable drawer
• Height-adjustable storage shelf
• Two swivel and two locking swivel heavy-duty four inch casters


An oven-baked, glossy red powdercoat finish gives the work bench a professional looking appearance that will look good for years to come.


SEE THE RANGER TEARDOWN WORK BENCH AT SUMMIT RACING