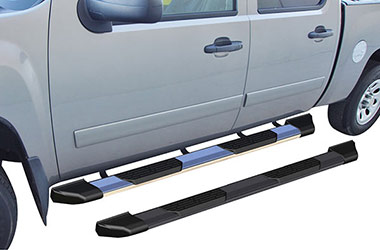 4/8/2014 - Media
New at Summit Racing: Rampage Streamline Step Bars
The style of a step bar, the functionality of a running board.
Why They're Cool: Step bars look great, but often have a small footpad. Running boards have plenty of foot room, but can affect ground clearance and interfere with styling lines. Rampage's Streamline Step Bars give you the best of both worlds. They have a footpad that is over 50 percent larger than a standard step bar plus sleek, low profile style.
The bars are made from 5 inch diameter oval steel tubing with a black powdercoat finish. The tubes are 90 inches long and feature molded end caps to keep moisture out. You can also paint the end caps to match your truck, for a custom finished look.
Installing Streamline Step Bars requires a specific Step Bar Mounting Bracket suited precisely for your truck, sold separately. They're available for most late-model domestic and import pickup trucks in a variety of cab configurations. The step bars mount to existing factory locations with no drilling required.
Product Links:
Step Bars
http://www.summitracing.com/oh/parts/rpe-16190/overview/
Mounting Brackets
http://www.summitracing.com/oh/search/part-type/truck-step-installation-kits?SortBy=Default&SortOrder=Default&keyword=Rampage%20Streamline