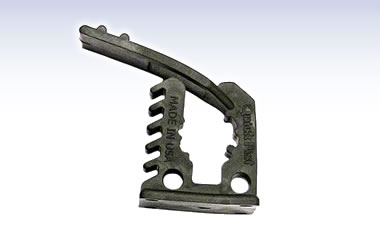 2/11/2014 - Media
New at Summit Racing: QUICK FIST Clamps
Bolt-on an extra set of hands to hold your essential gear: Quick Fist Clamps by End of the Road
Why They're Cool: Combine an innovative design with super-holding strength, and you get QUICK FIST Clamps. These clamps are perfect for holding tools, hoses, conduit, etc. They're made of heavy duty rubber, aren't affected by temperature extremes, and are UV resistant. Available in three styles, these clamps are useful almost everywhere, from off-roading to race cars, trailers, boats, and garages.
The Original QUICK FIST Clamps are made to hold objects from 5/8 to 1-3/8 inches in diameter that weigh up to 50 pounds. Mounting the clamps is easy—a single bolt is all you need to attach them to a wall, roll bar, or cabinet.
Mini QUICK FIST clamps have the strength of their bigger brothers, in a more compact package—perfect for tight spaces. They are made to hold objects from 5/8 to 1-3/8 inches in diameter that weigh up to 50 pounds
For even more holding power, there are Super QUICK FIST Clamps. When used in pairs, these versatile clamps can handle a whopping 100 pounds and objects up to 9½ inches in diameter. Mounting these clamps requires three bolts.
All QUICK FIST clamps are sold in pairs. There is also a handy kit available that includes two Mini, four Original, and two Super QUICK FIST Clamps.
Product Link: http://www.summitracing.com/oh/search/brand/quick-fist-clamps?SortBy=Default&SortOrder=Ascending
Other Stuff Worth Knowing: Designed for use with the Original QUICK FIST Clamp, End of the Road offers QUICK FIST Roll Bar Mounts. These mounts make it easy to stow a flashlight, shovel, high-lift jack, fire extinguisher, or other essential tools. They install quickly on roll bars from 1 to 2½ inches in diameter. The kit includes two roll bar mounts, two stainless hose clamps, two neoprene rubber straps, and stainless hardware.