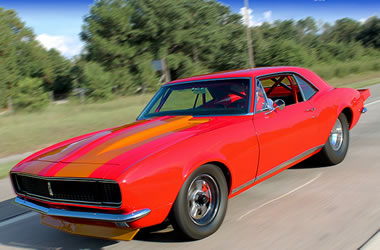 1/16/2014 - Media
New at Summit Racing: Pro Street '67 Camaro Parts Combos
The building blocks for a killer Pro Street Camaro.


Why They're Cool: Available exclusively at Summit Racing, our Pro Street '67 Camaro Parts Combos provide a solid foundation for a radical first-gen Camaro. These combos are based on the build of a real-life Camaro so the components are been proven to work together. The parts are grouped into affordable packages that let you build your car in stages, or you can pick and choose the combos that best suit your project:


• Engine Combo: includes a Chevrolet Performance ZZ572 crate engine, MSD ignition, Milodon oil pan and pump pickup, and more
• Fuel System Combo: includes an Aeromotive A1000 fuel system, Summit Racing fuel cell, and Spectre fuel line
• Drivetrain Combo: includes an American Powertrain Tremec TKO 600 five-speed transmission, RAM twin-plate clutch kit, Quicktime bellhousing, and a Strange spool and 4.10 gear set
• Chassis Combo: includes Summit Racing front control arms, Energy Suspension motor mounts, a Hurst Driveline Conversion transmission installation kit, and Goodmark motor mount brackets


• Electrical System Combo: includes an American Autowire wiring harness, Powermaster drag race alternator kit, Meziere high torque starter, XS Power AGM battery, and Summit Racing battery cables, remote battery disconnect kit, and battery jumper kit
• Wheel and Tire Combo: includes Billet Specialties Comp 5 Series wheels, Mickey Thompson Sportsman S/R tires, and McGard lug nuts
• Interior Combo: includes Auto Meter Elite Series gauges, Grant steering wheel, and RJS Camlock harnesses
• Small Parts Combo: includes a Summit Racing overflow tank, stainless steel flexible radiator hose, and sound deadening mat, Trans-Dapt pulleys, K&N air filter, and Koul Tools AN hose assembly tool


Summit Racing won't leave you hanging on the rest of the Camaro we based our combos on, either. You can read all about the build in the "17 Year Camaro" story on our blog, OnAllCylinders. We know you'll like what you see.


SEE ALL SUMMIT RACING PRO STREET '67 CAMARO COMBOS

READ PRO STREET '67 CAMARO BUILD STORY AT ONALLCYLINDERS