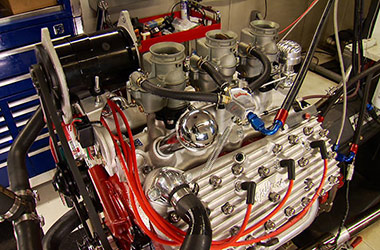 7/17/2014 - Media
New at Summit Racing: PowerNation Engine Power Old School Flatty Combos
Summit Racing speaks Flathead Ford V8, too. When RTM PowerNation's Engine Power crew needed parts to help complete their flathead engine project, Summit Racing had what they needed.



And now, you can get what you need for your own flathead Ford project with these Engine Power Old School Flatty Combos. They group some of the key components needed to duplicate Engine Power's build into convenient kits.


The Old School Flatty Air and Fuel Combo features components designed to efficiently get air and fuel into—and out of—the engine:
• Edelbrock aluminum cylinder heads
• Edelbrock intake manifold and triple carburetor kit
• Isky Cams cam and lifter kit and valve spring retainers
• Sanderson shorty headers
• Manley valves and Edelbrock fuel block kit


The Old School Flatty Ignition and Electronics Combo brings the flathead Ford out of the electrical system Stone Age:
• Mallory Unilite distributor, ignition coil, and power filter
• Mallory Pro Sidewinder ignition wires and Champion spark plugs
• Powermaster ProGEN alternator
• Summit Racing ballast resistor


Need gaskets and such? The Old School Flatty Gaskets, Brackets, and Fasteners Combo has them:
• Fel-Pro engine gasket set
• Fel-Pro copper/fiber head gaskets
• Fel-Pro intake manifold gasket
• Edelbrock generator bracket and carburetor stud kits


Visit RTM PowerNation's website if you want to check out Engine Power's Old School Flatty build.


SEE THE ENGINE POWER OLD SCHOOL FLATTY COMBOS AT SUMMIT RACING


Summit Racing has plenty of other parts to make your flathead Ford engine build go smoothly—cylinder heads, fuel delivery, ignition, driveline, cooling, gaskets and fasteners—plus suspension and other components for early Fords.
SEE SUMMIT RACING'S PARTS SELECTION FOR FLATHEAD FORD V8