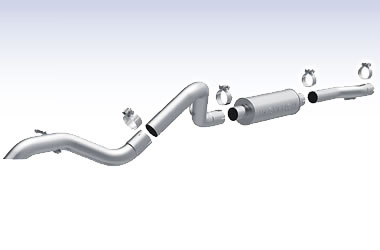 9/30/2013 - Media
New at Summit Racing: MagnaFlow Rockcrawler Exhaust Kits for Jeep Wrangler JK
Systems that provide clearance and durability for serious off-roading.
What They Are: MagnaFlow Exhaust Kits
Why They're Cool: An excellent power upgrade without compromising off-road capabilities. The Rockcrawler systems feature a high-clearance design that won't get bashed up on your favorite trail. They are designed for Jeeps fitted with aftermarket components, like metal bumpers.
Using mandrel-bent stainless steel tubing, the kits are dyno-proven to produce more power than the stock setup and are durable enough to face the rigors of trail driving. The system exits through the driver's side via a single stainless steel muffler, producing a deep, aggressive exhaust note.
All necessary installation hardware is included.
Part Numbers:
MPE-15237 2013 Jeep Wrangler Unlimited 3.6L
MPE-15238 2009-11 Jeep Wrangler 3.8L
MPE-15239 2007-12 Jeep Wrangler Unlimited 3.8L
Where to Get One: Order online at SummitRacing.com or call Summit Racing at 1-800-230-3030.