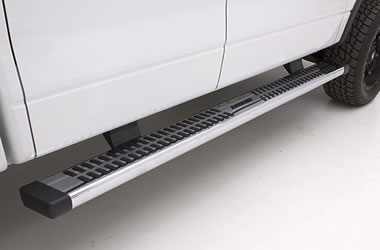 12/23/2013 - Media
New at Summit Racing: Lund Industries Summit Ridge Running Boards
Transform the look of your truck while adding some functionality too.
Providing an easier way to get into and out of your rig, Lund Summit Ridge Running Boards are built to withstand years of regular use. The steps use an OE-style design that integrates seamlessly with the truck's factory lines. They are made with corrosion-resistant aluminum to ward off Mother Nature and are strong enough to handle the grind of a work week.
The steps' extra wide foot pads have a non-slip surface to ensure sure-footed entry and exit. They come pre-assembled for quick and easy installation, and no drilling or special hardware is required. Your choice of black or chrome finishes.
The steps are available for many popular GM, Ford, Dodge/Ram, Nissan, and Toyota pickups with crew or extended cabs.
Product Link: http://www.summitracing.com/oh/search/new-product/yes/brand/lund-industries/product-line/lund-industries-summit-ridge-running-boards?SortBy=Default&SortOrder=Ascending&autoview=SKU