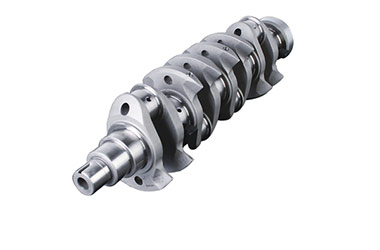 2/25/2014 - Media
New at Summit Racing: K1 Technologies Crankshafts and Connecting Rods
Pro-race quality cranks and connecting rods priced for the rest of us. K1 Technologies forged cranks and connecting rods are made to some of the tightest tolerances in the industry. That means you don't have to worry about a K1 bottom end holding up in the heat of competition. Summit Racing has these K1 Technologies on the shelves:


Forged Crankshafts
These crankshafts are forged from 4340 steel that is core-hardened and tempered to reduce stress and optimize tensile strength. Instead of induction heat-treating the cranks, K1 uses a nitriding process to harden the steel. That eliminates deformation and softening between the journals. Each crankshaft is magnetic particle inspected and is held to a maximum tolerance of .0002 inch journal dimension.


The crankshafts feature straight oil holes to ensure plenty of oil reaches the rod journals. The counterweights are placed for optimal load reduction and ease of balancing. K1 forged crankshafts are available for small and big block Chevy, GM LS, Ford 302/351W, small and big block Chrysler, 426 Hemi, and 5.7/6.4L Hemi.


Billet Connecting Rods
These H-beam rods are made from billet 4340 steel and mag-particle inspected before machining. They are shot peened for improved fatigue life and are finished in the USA on state of the art Sunnen hones. Housing bore tolerances of +/- .000050 (50 millionths) of an inch match some of the tightest accepted tolerances in the industry.


The rods have double bridged caps to reduce housing bore distortion, with no ridge between the blades to act as a stress riser. A special wrist pin bushing material is used to reduce friction. The rods are then fitted with ARP bolts made to K1's specifications.


All rod sets are weight-matched to +/- one gram and boxed with the individual rotating, reciprocating, and total weights conveniently noted for balancing. They are available for Chevy, Ford, Chrysler, AMC, and Oldsmobile V8.


Summit Racing also offers K1 Technologies billet crankshafts for select Honda, Mitsubishi, Nissan, Subaru, and Volkswagen engines, plus billet H-beam connecting rods for Honda, Mazda, Mitsubishi, Nissan, and Volkswagen engines.


SEE ALL K1 TECHNOLOGIES CRANKSHAFTS AND CONNECTING RODS