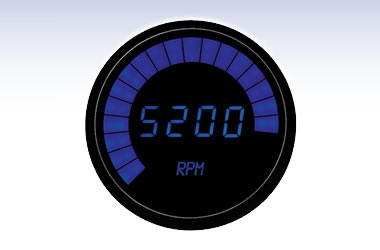 9/23/2013 - Media
New at Summit Racing: Intellitronix Digital Gauges
Accurate and easy to read gauges, tachs, and speedometers that are at home in most anything with wheels and an engine.


LED Digital Gauges
Made in the USA, Intellitronix LED Digital Gauges are microprocessor-controlled, so you get accurate information on engine functiins. Super-bright LEDs make the 2 1/16 inch diameter gauges easy to read in most any kind of light. You can even switch the temperature gauges from Fahrenheit to Celsius. Other features included automatic night dimming and in-dash mounting hardware. Your choice of four lighting colors—torch red, royal blue, aviation green, and arctic white—and chrome or black bezels. Gauge types available:


• Oil pressure, 0-99 PSI
• Oil Temperature, 50-150 degrees
• Water Temperature, 50-350 degrees
• Transmission Temperature, 50-350 degrees
• Air-Fuel Ratio
• Fuel Level, 0-99 percent empty/full readout
• Voltmeter, 7-25.5 volts
• Clock
PRODUCT LINK


Digital Tachometers and Speedometers
Intellitronix Digital Tachometers feature a custom designed LED bar graph as well as a numerical readout to help you count your revs. The microprocessor-controlled tachs read from 0-9,900 rpm and have a peak rpm memory recall function.


The Digital Speedometers have the same LED bar graph and numerical readout design as the tachs. The speedometers have 0-60 mph and quarter-mile elapsed time recall functions as well as a programmable top speed recall. You can even calibrate them for different tire sizes, wheel sizes, and gear ratios with the push of a button. The speedometers read from 0-255 mph and include an odometer.


The tachs and speedometers have 3 3/8 inch faces and are available in the same colors and bezel styles as the Intellitronix digital gauges.


Summit Racing also offers Intellitronix' GPS Speedometer Sender to convert most electronic speedometers to a GPS-enabled instrument, a Tach Memory Recall Kit that adds a high rpm recall function to most OE and aftermarket electronic tachs, and direct-replacement Digital Dash Panel Kits for 1982-92 Camaros.