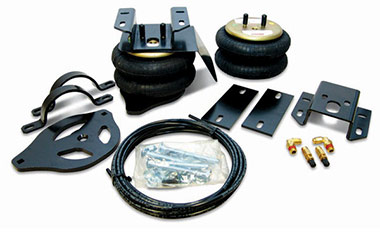 8/13/2014 - Media
New at Summit Racing: Hellwig Air Helper Spring Kits
A critical safety upgrade for heavily-laden haulers.
Why They're Cool: Loading up a truck with cargo can dramatically affect its handling. This can result in a downright dangerous situation for vehicles not equipped to handle the extra weight. Hellwig's Air Helper Spring Kits level the additional load from front-to-rear and side-to-side. When installed, a kit will improve a truck's cornering stability and will work to prevent the suspension from reaching the limits of its travel.
The air springs mount between the frame and suspension and are designed to transfer the load off of the truck's stock leaf spring. The springs can be filled manually with a standalone air tank or via an on-board air system, sold separately.
For most applications, installation is a bolt-on affair with simple hand tools. The kits come with two air springs, hardware, air hose, and heavy-duty brackets. Hellwig Air Helper Spring Kits are available for most late model, domestic full size trucks.
Other Stuff Worth Knowing: Hellwig makes On-Board Compressors for its Air Helper Springs that can be controlled from the comfort of the cab. Available with or without an air tank, these compressor kits include the wiring, gauges, and plumbing necessary to monitor and control the on-board air system. An automatic system is available as well.
SEE HELLWIG'S AIR HELPER SPRINGS AT SUMMIT RACING