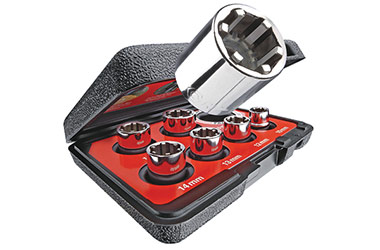 5/29/2014 - Media
New at Summit Racing: Grip-Tite Sockets and Socket Sets
Sockets that can grip the roughest of bolts or nuts—including ones that are rusted or rounded.


Why They're Cool: We've all been there. You're in the middle of your latest project and all of a sudden one stubborn bolt won't budge. The harder you try, the more you damage it—until it is totally rounded and useless.


Normally, this is where you reach for the drill or the gas axe. Grip-Tite has a better solution. These sockets feature patented, advanced cam technology that grips a bolt or nut very tightly—even if it's rounded, rusted, or otherwise damaged. In simple terms, the more you turn the ratchet, the harder the cams grab and the tighter the socket grips. The cams are made from high strength alloy steel for maximum toughness and long-lasting durability.


Grip-Tite sockets also serve as a great nut or bolt starter, holding on to a nut or bolt for easy starting or removal in hard to reach places. The sockets are available in 7-piece and 17-piece SAE or metric sets, a 14-piece SAE/metric combo set, and in 16 individual SAE and metric sizes. They might be the best Father's Day gift ever.


SEE THE GRIP-TITE SOCKETS AND SOCKET SETS AT SUMMIT RACING