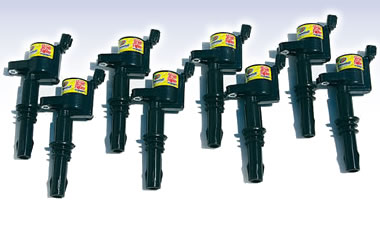 11/11/2013 - Media
New at Summit Racing: Granatelli Motor Sports Hot Street Coil Packs
Up to 45,000 volts of spark energy for late model Ford and Mopar vehicles.


Why They're Cool: Like we said, 45,000 volts of spark. Granatelli Motor Sports Hot Street Coil Packs deliver more voltage to your spark plugs than OEM coils. That means reliable spark that helps increase power and improve fuel economy. The Hot Street Coil Packs are ideal for stock and mildly modified engines (cold air intake, high-flow exhaust, tuners). The coils have epoxy-filled cores and are OBD-II safe.


Ford Applications
• 1999-2014 Mustang 4.6L and 5.0L
• 1997-2014 Ford F-Series 4.6L and 5.4L
• 2004-09 Ford F-250/350/450/550 Super Duty with V10

Chrysler Applications
• 2006-13 Charger, Challenger, Magnum, 300, Grand Cherokee with Hemi


Other Stuff Worth Knowing: Summit Racing also has Granatelli Motor Sports Pro Series Xtreme Coil Packs for late model Chevy, Ford, and Chrysler The coils put out 60,000 to 65,000 volts of spark—perfect for supercharged, turbocharged, and high-level nitrous applications.