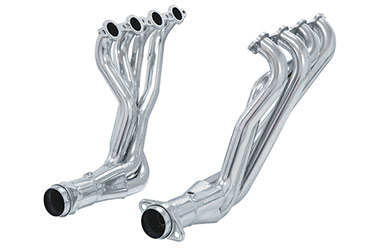 5/9/2014 - Media
New at Summit Racing: Flowmaster Scavenger Series Elite Headers
Improve performance with headers from the exhaust flow experts.


Why They're Cool: Flowmaster makes some of the best power-building mufflers and exhaust systems in the business. Now it has taken all that experience and built some pretty awesome headers that will build horsepower and torque as well as improve throttle response.


The Scavenger Series Elite Headers are made from mandrel-bent, 16 gauge 409S stainless steel that is ceramic-coated for good looks and long life. The headers have 1 5/8 inch primary tubes that are ideal for street performance. The 3/8 inch thick flanges resist warping, and the headers have three inch ball flange collector connections that ensure a leak-free connection to your exhaust system.


The Flowmaster Scavenger Series Elite Headers are available in shorty, mid-length, and full length styles. Some of the shorty headers for late model vehicles have connections for emissions equipment.


Applications
• 1957-2014 Chevrolet passenger cars and light trucks
• 1986-2014 Mustang, 1997-2010 F-150
• 2005-2012 Dodge Magnum, Charger, Challenger, Chrysler 300C with Hemi
• 1991-97 Jeep Wrangler 4.0L


SEE ALL FLOWMASTER SCAVENGER SERIES ELITE HEADERS AT SUMMIT RACING