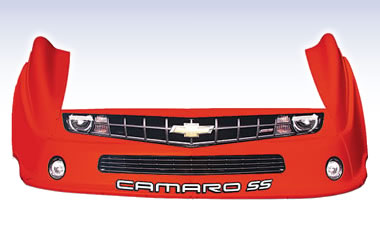 1/30/2014 - Media
New at Summit Racing: Five Star Fabrication Race Car Body Components
Cover your dirt track racer with tough, lightweight, good looking body panels. Summit Racing offers a large selection of Five Star Fabrication noses, fenders, and other body panels made from the Five Star's MD3 material, a lightweight, high impact-resistant plastic that's more durable than carbon fiber and weighs less. Because nobody likes a porky, busted up race car body.


MD3 Complete Combo Kits for Late Model
These front end kits include a nose, front fenders, and a nose ID graphics kit. The components offer maximum downforce and draft with minimum drag. The right corner of the nose is raised two inches for better ground clearance. Overlapped joints between fenders and nose means easier installation and added durability.


The Five Star Fabrication MD3 Complete Combo Kits are available with graphics for late model Camaro and Corvette, Chevy Impala SS, Pontiac GTO and GXP, Chevy SS, Dodge Challenger and Charger, Ford Mustang and Fusion, and Toyota Camry. There are even kits with Cadillac XLR and Ferrari graphics if you're into those.


MD3 Noses and Front Fenders
If you race, you'll be breaking noses and front fenders. Since these pieces are made from Five Star's fabulous MD3 material, they have a better chance of staying in one piece for more laps. Designed for Modified Dirt cars, the noses fit over your car's existing bumper and have the right corner raised two inches for added ground clearance. The fenders for Late Model cars are available in both old and new styles in your choice of six colors.


Summit Racing offers other Five Star Fabrication body panels including roof panels, lower valances, noses, and rocker panels, plus nose graphics kits.


SEE ALL FIVE STAR FABRICATION PRODUCTS