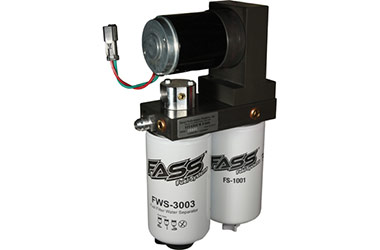 5/5/2014 - Media
New at Summit Racing: FASS Titanium Series Fuel Air Separation Systems
Remove air and water vapor from your diesel fuel to improve performance.
Why They're Cool: FASS is known for creating serious components for industrial grade diesel engines. Now, you can install one of its Titanium Fuel Air Separation Systems in your truck without having to cut a hole in your fender. These systems don't compromise flow and are small enough to tuck up against the frame rails to avoid any clearance issues.
Titanium Fuel Air Separation Systems feature a patented process that removes both air and vapor in a single efficient step, which results in improved filtering and more consistent fuel pressure. The systems also use a mass volume return, which essentially cleans the fuel twice to provide your injection system with the cleanest fuel possible.
Depending on the kit, the systems include a pump, fuel line, mounting bracket, wiring harness, fuel line, and hardware. A built-in heater port helps improve cold-weather startup.
* Billet aluminum construction
* Extended pump life
* Radius cut mandrel bend: allows for the fuel to travel smoothly to the engine, without reintroducing aeration
* FS silencing technology: quietest fuel air separation systems in the world
* Tight machining and assembly tolerances
* Viton® seals and O-rings
* Built-in heater port
* Optional electric heater port
* Large filter capacities
Applications:
2006-12 Chevy/GMC 6.6L Duramax
1989-2012 Dodge/Ram 5.9/6.7L Cummins
1999-2012 Ford 6.0/6.4/6.7/7.3L Powerstroke
They systems are designed for moderate- to high-horsepower engines.
Product Link: http://www.summitracing.com/oh/search/brand/fass-fuel-systems/product-line/fass-fuel-systems-titanium-series-fuel-air-separation-systems?autoview=SKU