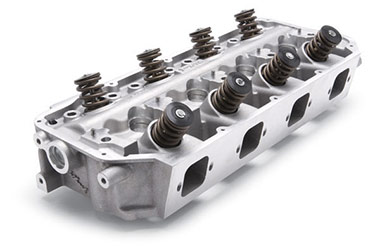 7/30/2014 - Media
New at Summit Racing: Edelbrock Victor Jr. CNC Cylinder Heads for Chrysler 426-572 Hemi
Ditch the iron, bolt on aluminum, and get more power out of your Elephant. Edelbrock's Victor Jr. CNC Aluminum Cylinder Heads are designed for 426 and larger Hemi engines making over 650 horsepower—an ideal upgrade for Mopar Performance's crate engines.


The heads feature fully CNC'd 170cc combustion chambers with CNC-blended seats for optimal airflow, plus a revised exhaust valve angle that is tipped 1.5 degrees to accommodate larger intake valves. The Victor Jrs. also have brass tubes installed in the exhaust pushrod holes to allow maximum clearance with minimal port intrusion. That helps improve airflow.


The heads retain the stock exhaust port locations so you can use off-the-shelf headers. Fully assembled heads come with valves, valve springs, locks, and retainers. They are designed for use with hydraulic flat tappet or roller cams, and stock geometry rocker arm systems.


Specifications
• Combustion Chamber: 170cc
• Intake Runners: 245cc
• Exhaust Runners: 105cc
• Intake Valves: 2.320 inch
• Exhaust Valves: 1.94 inch
• Valve Springs: 1.54 inch single with damper, .700 inch maximum lift
• Valve Guides: manganese bronze
• Deck Thickness: 5/8 inch
• Pushrod diameter: 5/16 or 3/8 inch recommended


SEE EDELBROCK's VICTOR JR. CNC CYLINDER HEADS FOR HEMI AT SUMMIT RACING