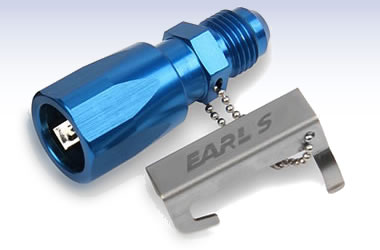 1/16/2014 - Media
New at Summit Racing: Earl's OE Fuel Line Quick Connect Fittings
The no-hassle way to connect AN fuel line to late model EFI fuel rails.


Why They're Cool: Earl's Performance Plumbing solved the problem of connecting -6 and -8 AN fuel line fittings to the factory rails in late model GM, Ford, and Chrysler vehicles with these new Quick Connect Adapter Fittings. The adapters use dual O-ring seals with an OE style steel inner snap retainer that 'clicks' to the original lines. An external stainless retaining clip provides a secondary connection for peace of mind. Earl's even tethers the external retainer to the fitting so you can't lose it. You can safety-wire the retainer for double-secret security.


Earl's Quick Disconnect Adapter Fittings are available blue anodized or with an Ano-Tuff black finish which provides superior resistance to wear and corrosion.


SEE ALL EARL'S OE FUEL LINE QUICK CONNECT FITTINGS