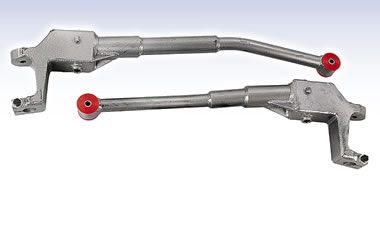 10/24/2013 - Media
New at Summit Racing: DJM Suspension Dream Beams for Ford
Drop the front of your Twin I-Beam Ford the right way.


Why They're Cool: Dropping a Twin I-Beam front suspension just got easier thanks to DJM Suspensions. Its Dream Beam I-beams are a direct swap for the OE Ford beams. Not only will they drop the front of your truck three inches, they're manufactured from quarter-inch thick certified DOM heat-treated, pickled, and oiled (rustproof) steel tubing with no long vertical welds to distort their dimensional accuracy. That means the Dream Beams are stronger and lighter than the factory cast iron I-beams.


The Dream Beams have a silver powdercoat finish and come with polyurethane bushings. They are available for 1965-2004 F-Series pickups with Twin I-Beam front suspension.


Product Link: http://www.summitracing.com/search/brand/djm-suspension/product-line/djm-suspension-dream-beams?autoview=SKU


Other Stuff Worth Knowing: Finish your Ford's suspension drop with a DJM Shackle and Hanger Kit. It will drop the rear of the truck from three to five inches depending on the model year.