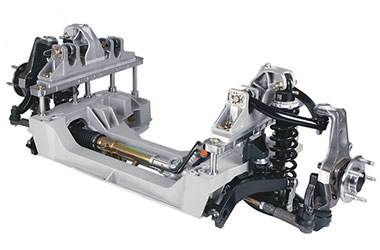 3/28/2014 - Media
New at Summit Racing: Detroit Speed Suspension Components for First-Gen Mustang
21st century handling and ride comfort for your classic ponycar. The combination of style and performance makes the first-generation Mustang as popular today as it was when it debuted in 1964. But like anything else, a Mustang can be made better–especially in the handling department. If you want modern handling under that classic wrapper, Summit Racing has the Detroit Speed suspension kits and components you need.


Aluma-Frame Front Suspension Packages
This all-aluminum front suspension system for 1964.5-1970 Mustangs has unique suspension geometry that provides six inches of suspension travel for the ultimate in ride and performance. A cast aluminum cradle and mounting system replaces the factory crossmember and shock towers. It fits to the stock frame rails and inner fender, requiring just a small amount of fabrication to install.


Other features include:
• Tubular upper and lower control arms
• Rack and pinion steering
• Forged spindles
• Aluminum coil-over shocks available in fixed valve and single adjustable versions
• Splined integrated style anti-roll bar with composite bushings
• Patent-pending Speed-LIGN™ caster/camber adjusters to make quick, precise suspension settings without additional shims
• Aluminum uprights and hub packs with a Ford 5 x 4.5 wheel bolt pattern
• Can fit up to P265/35R18 tires on a 9 inch rim on early models, up to P295/35R18 tires on a 10.5 inch rim on later models
• Spanner tool for easy shock adjustments


QuadraLink Rear Suspension Kits
Detroit Speed's QuadraLink rear suspension kits offer 4-link geometry for the best possible handling. The patented Swivel-Link allows the suspension to fully articulate with smooth, solid motion and no binding. The QuadraLink uses tuned high-durometer rubber bushings, rather than noisy, short-life Heim joints or squeaky urethane bushings. The kit's adjustable Panhard rod provides precise and effective rear axle lateral location during hard cornering. The long upper links provide great pinion and U-joint angle control, while the rear upper shock crossmember strengthens the rear body and frame section. The QuadraLink is available with non-adjustable or single-adjustable coil-over shocks.


Engine Mount Kits
Summit Racing has Engine Mount Kits designed to fit a small block Ford, FE big block, 2V, 3V, or Coyote 5.0 modular (including the Boss 302) or even a—gasp—GM LS engine in an early Mustang using the Aluma-Frame front suspension kit.


Summit Racing also has weld-on subframe connectors, shock tower delete panels to help clean up an Aluma-Frame installation, rear torque boxes, and Deep Tub rear mini-tubs that accommodate larger wheels and tires with a factory appearance.


SEE ALL DETROIT SPEED SUSPENSION COMPONENTS FOR 1964.5-70 MUSTANG