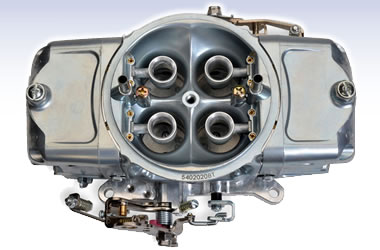 9/23/2013 - Media
New at Summit Racing: Demon Carburetion Mighty Demon Blower Carburetors
Get the right fuel calibration for engines with centrifugal superchargers or turbochargers.


Why They're Cool: Supercharged and turbo engines create big demands on a carburetor. The carburetor needs to be calibrated to provide additional fuel under boost, yet be able to maintain acceptable street manners at idle and have good part-throttle/low boost driveability. On top of that, the carburetor needs to be set up so all that power-making boost doesn't escape through the throttle shafts.


Fortunately, Demon Carburetion offers its Might Demon Blower Carburetors. Designed for blow-through systems using a carb hat, the Mighty Demons have the following features to increase the vacuum signal to the carburetor under boost and enrich the fuel calibration:
• Boost-referenced primary power valve
• Annular boost venturi
• Large screw-in power-valve channel restrictors in the meter blocks
• Large .130 inch needle and seat assemblies
• Precisely calibrated air bleeds


The Mighty Demon Blower Carburetors also have solid nitrophyl floats that won't collapse under boost like hollow brass floats can. To prevent boost pressure from escaping through the throttle shafts, the carburetors have machined right-angle grooves in the baseplate that introduce boost pressure to four machined grooves in the throttle shafts. This innovation seals the shafts under boost and prevents pressure from escaping. Demon Carburetion even screw-on fittings instead of press-in fittings to keep the Mighty Demons sealed up tight.


The mechanical secondary carburetors retain the features that make all of the Mighty Demons so good, including billet metering blocks, billet base plate with the unique Idle-Eze air valve that makes idle adjustment a snap, replaceable air bleeds and idle feed restrictors, and Teflon-coated throttle shafts.
Part Numbers
DEM-5282020BT 650 cfm
DEM-5402020BT 750 cfm
DEM-5563020BT 850 cfm


Product Link: http://www.summitracing.com/search/product-line/demon-carburetion-mighty-demon-carburetors?autoview=SKU&keyword=Demon%20Blower%20Carburetors