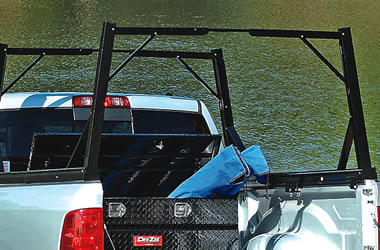 2/13/2014 - Media
New at Summit Racing: DeeZee Invis-A-Rack Cargo Management Systems and TruXedo Lo Pro QT Tonneau Covers
Maximize your rig's utility with two easy upgrades.
Why They're Cool: It used to be that if you had a truck, you could either install a ladder rack or a tonneau cover—but not both. DeeZee and TruXedo have worked together to shatter that rule.
DeeZee's Invis-A-Rack Systems spell the end of permanent cargo installations. The Invis-A-Racks use rails that sit on top of the truck bed's sills. That allows the rack portion to be removed while the mounting brackets fold neatly inside the rails. When you need to re-install the ladder rack, simply pop the mounting brackets up and bolt the lightweight aluminum rack back on. The Invis-A-Rack system installs easily with heavy duty clamps. The entire rack has a black textured powdercoat finish to resist corrosion and can handle up to 500 pounds.
Compatible with the Invis-A-Rack system, TruXedo's Lo Pro QT Tonneau Covers offer added security and style to your truck. The soft roll-up tonneau covers use industrial-strength Velcro® to secure the cover to the truck bed. A patented spring tensioner mechanism keeps the cover taught, regardless of the outside temperature. They offer excellent protection from the elements, while keeping your cargo hidden and away from prying eyes.
Invis-A-Rack Systems and Lo Pro QT Tonneau Covers are available for many 1967-2014 trucks.
Product Links:
Invis-a-Rack Cargo Management Systems
http://www.summitracing.com/oh/search?keyword=invis-a-rack
TruXedo Lo Pro QT Tonneau Covers
http://www.summitracing.com/oh/search/brand/truxedo/product-line/truxedo-lo-pro-qt-tonneau-covers?autoview=SKU