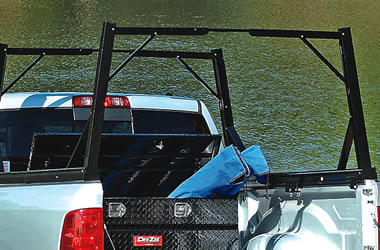 7/14/2014 - Media
New at Summit Racing: Dee Zee Cab Racks
Serious protection for serious work trucks.
Why They're Cool: Effective insurance against cracked windows (or worse). Dee Zee Pickup Cab Racks employ heavy-duty mesh or louvers to prevent wayward cargo from crashing through the truck cab's rear window. They feature a low-profile design that won't significantly affect rear visibility.
The racks mount into the truck bed's stake pockets for a secure installation. Each rack incorporates an integrated channel mounting system, which allows truck owners to add options like ladder racks, auxiliary lights, and more.
Dee Zee Pickup Cab Racks are available for late-model domestic full size pickup trucks, in either a natural or black powdercoat finish.
See all Dee Zee Pickup Cab Racks at SummitRacing.com.