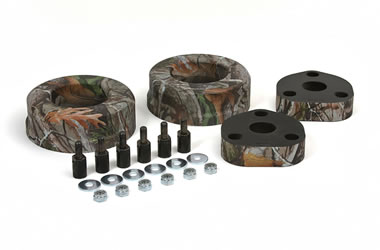 7/14/2014 - Media
New at Summit Racing: Daystar Comfort Ride Leveling Kits
Level your truck's stance without adversely affecting ride quality.
Why They're Cool: Daystar Comfort Ride Leveling Kits eliminate the nose-down rake that a truck typically has when leaving the factory. A leveled stance makes the truck look more aggressive, while also reducing wind noise. A kit is also the perfect compliment to a styled truck with aftermarket wheels and tires.
Comfort Ride Leveling Kits work with stock suspension components to level-out a truck's stance. Since the truck stock suspension geometry isn't radically altered, the ride quality does not suffer. Using the factory components also means that Daystar keeps the overall cost of the kits down.
Each kit includes polyurethane coil spacers, torsion bar keys, or strut extensions depending on the application. There are kits available for most late model trucks, in both 2- and 4-wheel drive configurations. Certain applications have coil spacers that come in cool Camo Print—perfect for those outdoorsy-types.
See all Daystar Comfort Ride Leveling Kits at SummitRacing.com.