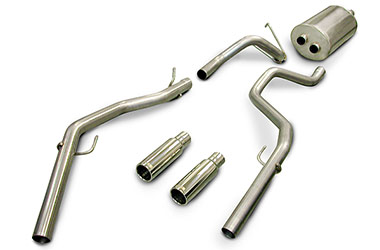 3/5/2014 - Media
New at Summit Racing: Corsa Sport Exhaust Systems
Noticeable power increases with an improved exhaust note.
Why They're Cool: Upgrading a truck's exhaust for more performance often comes at the expense of exhaust tone. Corsa's Sport Exhaust Systems use a patented reflective sound cancellation technology to improve exhaust flow while suppressing the audible drone. The end result is a significant increase in horsepower and torque, with an aggressive exhaust note that won't fatigue the ears on long highway drives.
Each Corsa exhaust system is made in the USA from premium stainless steel. Mandrel bent tubing helps improve exhaust flow. The handcrafted exhaust tips are polished to a high-shine finish. The kits are also custom-designed for each application, which means they'll typically bolt right in—no cutting or welding required.
There are kits available for many late model Chevy/GMC, Dodge/RAM, Ford, and Toyota trucks and SUVs.
Corsa Performance Sport Exhaust Systems are 50-state legal.
Product Link:
http://www.summitracing.com/oh/search/category/truck-suv/new-product/yes/product-line/corsa-performance-exhaust-sport-exhaust-systems?PageSize=100&SortBy=Default&SortOrder=Ascending&autoview=SKU