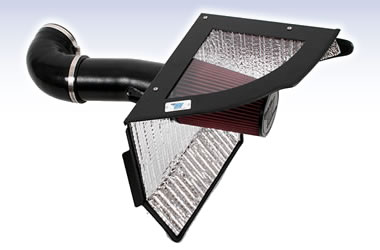 11/8/2013 - Media
New at Summit Racing: Cold Air Inductions Intake Systems for 2010-14 Camaro
Lower intake temperatures and squeeze more power out of your engine with a system from one of the most respected names in cold air intakes.
Why They're Cool: Cold Air Inductions (CAI) systems feature aluminum, ceramic-coated intake tubes that are lighter and won't absorb heat like plastic tubes. The tubing is TIG hand-welded, then powdercoated for durability and corrosion resistance. At the business end of the system is a high-performance air filter element that's been designed to maximize filtration, while still providing peak airflow. It is an oiled filter and will last a lifetime with proper maintenance. The air intake box is thermally insulated to prevent heat soak and features a plastic window, which allows for at-a-glance filter inspection.
Each Cold Air Inductions intake system is designed specifically for each application to maximize performance and insure a perfect fit. They're available in either a silver or black powdercoat finish.
Applications
• 2010-14 Camaro, 2006-12 Chevy/GMC trucks and SUVs, 2000-09 Impala/Monte Carlo
• 2004-06 Pontiac GTO and 1997-2008 Grand Prix
• 2007-12 Cadillac Escalade
• 1998-2004 Buick Regal
• 2005-10 Dodge Challenger/Charger/Magnum, Chrysler 300, all with Hemi
Product Link: http://www.summitracing.com/search/brand/cold-air-inductions/product-line/cold-air-inductions-intake-systems?autoview=SKU