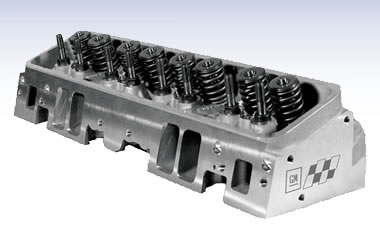 8/23/2013 - Media
New at Summit Racing: Chevrolet Performance Fast Burn Aluminum Cylinder Heads for Small Chevy
These fully assembled Fast Burn cylinder heads from Chevrolet Performance are designed for Gen 1 350-400 c.i.d. Chevy V8s and can support engines making up to 500 horsepower. The combustion chamber shape allows a more complete burn of the air/fuel mixture using conventional flat top pistons, resulting in higher cylinder pressure and more power.


Chevrolet Performance Parts' cast-ported technology incorporates improvements in airflow, combustion, and cylinder fill within the casting, giving you maximum performance out of box. Additional porting is recommended for all out race applications. All Fast Burn heads are CNC-machined to exacting tolerances, eliminating the need for the blueprinting. The Fast Burn Cylinder heads are drilled and tapped for Vortec and raised port manifolds, and accept flange-mount or centerbolt-style valve covers.


Specifications
• Intake Runner: 210cc with roof raised .240 inch for improved flow
• Exhaust Runner: 78cc with D-port raised .200 inch from stock
• Combustion Chamber: 62cc with 2.00/1.55 inch stainless steel valves
• .400 inch thick deck can be milled up to .060 inch to raise compression
• Screw-in 3/8 inch rocker arm studs
• Tall valve cover rails for roller rocker arm clearance
• Angled spark plug locations
• Assembled with valve locks, seals, and retainers


Part Numbers
NAL-12464298 Fast Burn Cylinder Head with 1.320 inch single valve springs (.530 inch maximum valve lift), each
NAL-19300955 Fast Burn Cylinder Head with 1.259 inch LS-style beehive valve springs (.550 inch maximum valve lift), each


Other Stuff Worth Knowing: Summit Racing offers the Fast Burn heads in a turn-key crate engine. The Chevrolet Performance Fast Burn 385 HP Engine Assembly is 350 cubic inches of performance, rated at 385 horsepower and 385 ft.-lbs. of torque. It's fully assembled from air cleaner to oil pan, ready to drop in your vehicle of choice.