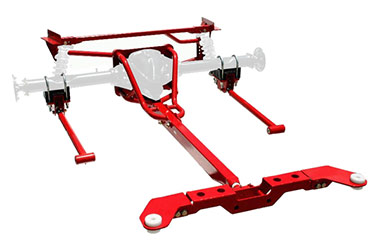 2/24/2014 - Media
New at Summit Racing: BMR Suspension Torque Arm Suspension Kits for 1967-81 Camaro
Dump your leaf springs for better handling, ride, and traction.


Why They're Cool: When GM introduced the 1982 Camaro and Firebird, it gave the cars something they didn't have before—really good handling. A lot of the credit went to the new torque arm rear suspension that replaced the old-fashioned leaf springs. In simple terms, The GM system used a set of trailing arms to locate the rear axle, a centrally mounted torque arm to control axle wrap under acceleration, and a Panhard bar to center the rear axle in the chassis. This system improved lateral stability for acceleration and traction, and the torque arm improved suspension articulation for bind-free handling. All without compromising ride comfort.


BMR Suspension took GM's torque arm setup and reconfigured it for early Camaros and Firebirds. The BMR kit bolts to your stock 10- or 12-bolt rear axle, replacing the rear leaf springs with a custom upper crossmember, adjustable trailing arms, and an adjustable torque arm. Instead of a Panhard rod, BMR uses a Watts link for precise side-to-side axle positioning. The Watts link pivot is machined from 6061 billet aluminum and has greasable Delrin bushings that won't wear out like rubber bushings do.


Every component in the BMR torque arm system is adjustable. You can change pinion angle by adjusting the torque arm. The trailing arms are adjustable in length and have multiple mounting holes plotted in an arc to provide adjustment for anti-squat characteristics. The Watts link pivot and end links themselves have multiple height mounting positions for adjusting the car's center of gravity.


The BMR Suspension Torque Arm Suspension Kits are designed for use with coil-over shocks, which are sold separately. BMR recommends QA1 Pro coil-overs. They can be adjusted for both compression and rebound, and have multiple mounting holes that let you set the ride height where you want it. Check with a Summit Racing tech rep on the proper QA1 Pro coil-overs for your particular setup.


CHECK OUT BMR'S TORQUE ARM SUSPENSIONS
SEE QA1'S PRO COIL-OVER SHOCKS FOR 1967-69 CAMARO